Nora is a 3-year-old American Quarter Horse. Her color is described as blue roan. She started her training at UW-River Falls. Nora loves to run and throw her head back. She enjoys face scratches and loves attention.
Dolly is a 17-year-old American Saddlebred horse. She used to trail rides all over the country until she became blind. Dolly now enjoys her retirement at Healing Hearts Sanctuary. Dolly has a sweet temperament and makes sure those around her are safe. She enjoys hugs and being brushed.
Tinkerbell is a 23-year-old miniature horse. She was previously owned by 4-H members and shown at the fairs doing driving (pulling a cart). Tinkerbell is now retired and enjoys the laid-back life of grazing and napping. Tinkerbell is the mother to DaVinci. She loves to take naps and eat her hay.
Da'Vinci is a 18-year-old Grullo miniature horse. He is the son of Tinkerbell. He also was previously owned by 4-H members and drove carts. We like to call him Fabio because of his mane. Da'Vinci loves a good roll in the sand and eat lots of treats.
Mabel is a 4-year-old American Quarter Horse and she is in foal. We are hoping to be welcoming her baby to the farm in Spring 2024! She is the newest addition, arriving in September 2023. She may be the newest member to the sanctuary but she is already showing her confidence and independence!
Scout is a 7-month old puppy that was rescued in Texas. The humane society believes she is a mix of Chihuahua and Dachshund. Scout will begin her training to become a therapy dog and join us in sessions.
Sven and Olaf are twin brothers. They are 2-years-old and born in January. They are very friendly and love to follow you around in hopes of getting some treats.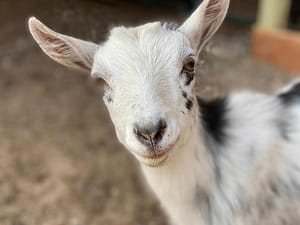 Captain, Coke, and Jack are 3-year-old mixed breed goats. They love to escape and eat all the bushes around the farm.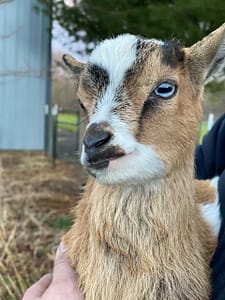 The Boys – Peter Pan, Captain Hook, John and Michael have joined our farm in May 2023 from my in-laws farm. They vary in age but love to roam the wide open pasture. John especially loves to get into the burdock bushes 🙁
African Geese and Runner Ducks – the farm is the dwelling to a flock of geese and ducks. They enjoy swimming in their pond and getting lettuce treats.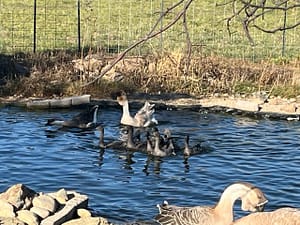 Healing Hearts Sanctuary is also home to rabbits, barn cats, and dogs.